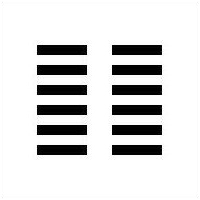 The trigram above – K'UN – the Receptive
The trigram below – K'UN – the Receptive
General: Be receptive to words of advice or influence from those who are worthy of respect. This is a sign of strength, not weakness.
Love: Listen to the advice of family and friends.
Business: Listen to the advice of experts in your field and take stock of your business.
Personal: Take advice from a counselor you trust.
This hexagram is made up of broken lines only. The broken line represents the dark, yielding, receptive primal power of yin. The attribute of the hexagram is devotion; its image is the earth. It is the perfect complement of THE CREATIVE – the complement, not the opposite, for the Receptive does not combat the Creative but completes it. It represents nature in contrast to spirit, earth in contrast to heaven, space as against time, the female-maternal as against the male-paternal. However, as applied to human affairs, the principle of this complementary relationship is found not only in the relation between man and woman, but also in that between prince and minister and between father and son. Indeed, even in the individual this duality appears in the coexistence of the spiritual world and the world of the senses.
But strictly speaking there is no real dualism here, because there is a clearly defined hierarchic relationship between the two principles. In itself of course the Receptive is just as important as the Creative, but the attribute of devotion defines the place occupied by this primal power in relation to the Creative. For he Receptive must be activated and led by the Creative; then it is productive of good. Only when it abandons this position and tries to stand as an equal side by side wit the Creative, does it become evil. The result then is opposition to and struggle against the Creative, which is productive of evil to both.