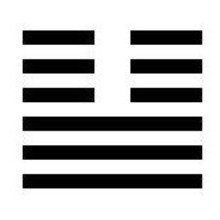 The trigram above – K'UN – the Receptive, Earth
The trigram below – CH'IEN – the Creative, Heaven
General: Although times are harmonious you should not take them for granted. Try to understand why the harmony is there.
Love: Your relationship should be treated to respect and kindness.
Business: Your current success should be analyzed to see how it came about.
Personal: Do a good deed.
The Receptive, which moves downward, stands above; the Creative, which moves upward, is below. Hence their influences meet and are in harmony, so that all living things bloom and prosper. This hexagram belongs to the first month (February-March), at which time the forces of nature prepare the new spring.
This hexagram denotes a time in nature when heaven seems to be on earth. Heaven has placed itself beneath the earth, and so their powers unite in deep harmony. then peace and blessing descend upon all living things.