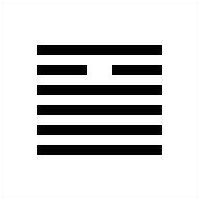 The trigram above – LI – the Clinging, Flame
The trigram below – CH'IEN – the Creative, Heaven
General: Those who understand the responsibility that comes with wealth are the ones best fitted to maintain it.
Love: Enjoy the current harmonious period but do not allow yourself to become complacent.
Business: Opportunities for business success will be there if you look for them. Do not allow yourself to become greedy though.
Personal: Take the time to enjoy mental clarity but make sure to watch for any feelings of pride or arrogance and eliminate them if necessary.
The fire in heaven above shines far, and all things stand out in the light and become manifest. The weak fifth line occupies the place of honor, and all the strong lines are in accord with it. All things come to the man who is modest and kind in high position.
The two trigrams indicate that strength and clarity unite. Possession in great measure is determined by fate and accords with time. How is it possible that the weak line has power to hold the strong lines fast and to possess them? It is done by virtue of unselfish modesty. The time is favorable – a time of strength within, clarity and culture without. Power is expressing itself in a graceful and controlled way. This brings supreme success and wealth.