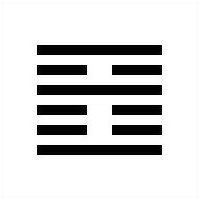 The trigram above – LI – the Clinging, Fire
The trigram below – CHEN – the Arousing, Thunder
General: Without justice harmony is unattainable.
Love: Don't let unfair treatment go unanswered. Stand up for yourself.
Business: Watch out for criminal activities being conducted against your business.
Personal: Complex issues can be resolved by receiving insight through meditation.
This hexagram represents an open mouth (cf. hexagram 27) with an obstruction (in the fourth place) between the teeth. As a result the lips cannot meet. To bring them together one must bite energetically through the obstacle. Since the hexagram is made up of the trigrams for thunder and for lightning, it indicates how obstacles are forcibly removed in nature. Energetic biting through overcomes the obstacle that prevents joining the lips; the storm with its thunder and lightning overcomes the disturbing tension in nature.
Recourse to law and penalties overcomes the disturbances of harmonious social life caused by criminals and slanderers. The theme of this hexagram is a criminal lawsuit, in a contradistinction to that of Sun, CONFLICT (6), which refers to civil suits.