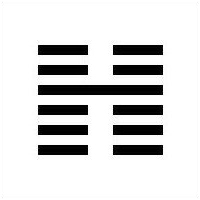 The trigram above – CHEN – the Arousing, Thunder
The trigram below – K'UN – the Receptive, Earth
General: Revitalize your spirit through celebration.
Love: Give your partner a pleasant surprise. Suggest an outing or trip.
Business: Take time to celebrate your business successes.
Personal: Throw a seasonal party to celebrate the cycles of nature.
The strong line in the fourth place, that of the leading official, meets with response and obedience from all the other lines, which are all weak. The attribute of the upper trigram, Chen, is movement; the attributes of K'un, the lower, are obedience and devotion.
This begins a movement that meets with devotion and therefore inspires enthusiasm, carrying all with it. Of great importance, furthermore, is the law of movement along the line of least resistance, which in this hexagram is enunciated as the law for natural events and for human life.