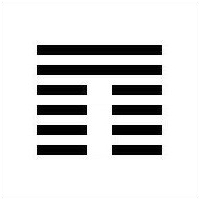 The trigram above – SUN – The Gentle, Wind
The trigram below -K'UN – the Receptive, Earth
General: Remaining alert to all that affects you and those around you will help you to understand your role in the world.
Love: This could be a time when you are feeling isolated. Make the effort to go out into the community.
Business: Refamiliarize yourself with the needs of your customers and clients. Go out into the community and meet with them.
Personal: Travel is a good way to combat any feelings of isolation.
A slight variation of tonal stress gives the Chinese name for this hexagram a double meaning. It means both contemplating and being seen, in the sense of being an example. These ideas are suggested by the fact that the hexagram can be understood as picturing a type of tower characteristic of ancient China.
A tower of this kind commanded a wide view of the country; at the same time, when situated on a mountain, it became a landmark that could be seen for miles around. Thus the hexagram shows a ruler who contemplates the law of heaven above him hand the ways of the people below, and who, by means of good government, sets a lofty example to the masses.
This hexagram is linked with the eighth month (September-October). The light-giving power retreats and the dark power is again on the increase. However, this aspect is not material in the interpretation of the hexagram as a whole.