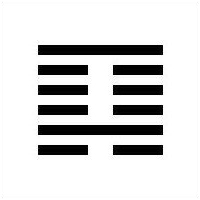 The trigram above – KEN – Keeping Still, Mountain
The trigram below – KAN – the Abysmal, Water
General: Patience and kindness are the keys to learning and teaching.
Love: Let go of any childhood traumas you have about relationships.
Business: Being thoughtful will help strengthen new business ideas or procedures.
Personal: Remember the pleasure of childhood and youth and imitate it. You may need to release any bad habits from that time.
In this hexagram we are reminded of youth and folly in two different ways. The image of the upper trigram, Ken, is the mountain, that of the lower, K'an, is water; the spring rising at the foot of the mountain is the image of inexperienced youth. Keeping still is the attribute of the upper trigram; that of the lower is the abyss, danger. Stopping in perplexity on the brink of a dangerous abyss is a symbol of the folly of youth. Water is something that of necessity flows on. When the spring gushes forth, it does not know at first where it will go. but its steady flow fills up the deep place blocking its progress, and success is attained.