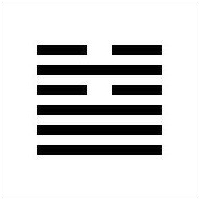 The trigram above – K'AN – the Abysmal, Water
The trigram below – CH'IEN – the Creative, Heaven
General: Do not doubt that the wait is necessary.
Love: If you are in an existing relationship it will enter a happier time, or if single, your relationship will come in due time.
Business: Start your business or continue it if already started, and know that you will succeed.
Personal: Keep your life in perspective and let some of those worries go.
All beings have need of nourishment from above. But the gift of food comes in it sown time, and for this one must wait. This hexagram shows the clouds in the heavens, giving rain to refresh all that grows and to provide mankind with food and drink. The rain will come in its own time. We cannot make it come; we have to wait for it. The idea of waiting is further suggested by the attributes of the two trigrams – strength within, danger in front. Strength in the face of danger does not plunge ahead but hides its time, whereas weakness in the face of danger grows agitated and has not the patience to wait.