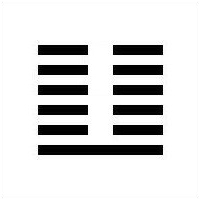 The trigram above – K'UN – the Receptive, Earth
The trigram below – CHEN – the Arousing, Thunder
General: If matters are progressing and showing steady improvement then there is no need to push them.
Love: New romance will be rekindled in your life.
Business: The next few months will show a steady improvement of your business.
Personal: It is a good time to plan for the future.
The idea of a turning point arises from the fact that after the dark lines have pushed all of the light lines upward and out of the hexagram, another light line enters the hexagram from below. He time of darkness is past. The winter solstice brings the victory of light. This hexagram is linked with the eleventh month, the month of the solstice (December – January).
After a time of decay comes the turning point. The powerful light that has been banished returns. There is movement, but it is not brought about by force. The upper trigram K'un is characterized by devotion; thus the movement is natural, arising spontaneously. For this reason the transformation of the old becomes easy. The old is discarded and the new is introduced. Both measures accord with the time; therefore no harm results.
Societies of people sharing the same views are formed. But since these groups come together n full public knowledge and are in harmony with the time, all selfish separatist tendencies are excluded, and no mistake is made.