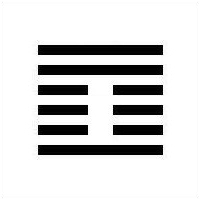 The trigram above – SUN – the Gentle, Wind
The trigram below – CHEN – the Arousing, Thunder
General: When accompanied by generosity abundance will endure.
Love: Do not be miserly in sharing your love with your partner.
Business: This is a time for furthering your business and for rewarding your staff generously.
Personal: Take the opportunity to help others and you will achieve great success.
The idea of increasing is expressed in the fact that the strong lowest line of the upper trigram has sunk down and take its place under the lower trigram. This conception also expresses the fundamental idea on which the Book of Changes is based. To rule truly is to serve.
A sacrifice of the higher element that produces an increase of the lower is called an out-an-out increase: it indicates the spirit that alone has power to help the world.
Sacrifice on the part of those above for the increase of those below fills the people with a sense of joy and gratitude that is extremely valuable for the flowering of the commonwealth. When people are thus devoted to their leaders, undertakings are possible, and even difficult and dangerous enterprises will succeed. Therefore in such times of progress and successful development it is necessary to work and make the best use of the time. This time resembles that of the marriage of heaven and earth, when the earth partakes of the creative power of heaven, forming and bringing forth living beings. The time of INCREASE does not endure, therefore it must be utilized while it lasts.