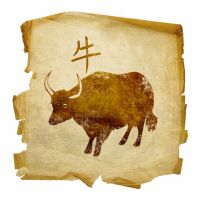 Similarity to western sign : CAPRICORN
Hours ruled by the Ox : 1 AM – 3 AM
Season and month : Winter – January
Point of the compass : North – Northeast
Mentality : Negative
Famous Ox People: Tung Chee-Hwa, Sukarno, Richard Burton, Napoleon, Charlie Chaplin, Peter Sellers, Margaret Mead, Jawaharlal Nehru, Eisaku Sato, Princess Diana,  Bach, Handel, Van Gogh, Dvorak, Walt Disney, Charles Chaplin.
February 19, 1901 to February 7, 1902 (metal)
February 6, 1913 to January 25, 1914 (water)
January 24, 1925 to February 12, 1926 (wood)
February 11, 1937 to January 30, 1938 (fire)
January 29, 1949 to February 16, 1950 (earth)
February 15, 1961 to February 4, 1962 (metal)
February 3, 1973 to January 22, 1974 (water)
February 20, 1985 to February 8, 1986 (wood)
February 7, 1997 to January 27, 1998 (fire)
Those born in these years are typically reliable and dependable. Ox personalities often rise to positions of authority and make excellent leaders, however they are seldom elected into high official status because of their lack of flair and excitement. The Ox achieves through routine hard work and patience…not that the Ox lacks a creative imagination. They are hard-working and persistent, and can stick to a task longer and harder than others. They believe in themselves.
Although seldom romantic, the Ox is very tender and loving to the few lucky enough to receive such attention. They are not social or party animals and tend to be quiet when in groups. People who are around oxen-personalities often misunderstand them, but oxen are patient and caring. An ox is the best friend you could choose.
In business, the Ox often bring prosperity as a result of logical thought and extensive planning. They are exceptional at hand-crafts or the arts.
The Ox is a steadfast and solid, a born leader. It's dependable and has what it takes to achieve great things. They are methodical, not plunging in without considering what the right steps are to get a project finished. They believe in doing it right the first time. In the business world, because the Ox can be strong leader, it can also be a bit stubborn or dogmatic. They prefer to lead and don't like to be pushed around.
While the Ox is smart, trustworthy caring and honorable, it can also be a bit judgmental and this characteristic can keep them from having the close friends and relationships that they desire. Some good advice for the Ox is to learn to value qualities in others, and to listen to what others have to say. Sometimes it pays just to say nothing.
The Ox has a prime place in Chinese symbolism and appears on the first page of almost every Chinese Almanac. The Ox is a symbol of diligence, perseverance, tenacity and thoroughness.