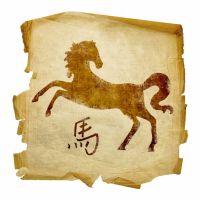 Similarity to western sign : GEMINI
Hours ruled by the horse : 11 AM – 1 PM
Season and month : Summer – June
Point of the compass : South
Mentality : Positive
Famous Horse People: Duke of Windsor, Princess Margaret, Billy Graham, Igor Stravinsky, Bertrand Russell, Joseph Haydn, Barbra Streisand, Nelson Mandela, Anwar Sadat, Neil Armstrong, Thomas Edison, Leonard Bernstein, Barbara Streisand, Clint Eastwood, Ingmar Bergman
January 25, 1906 to February 12, 1907 (fire)
February 11, 1918 to January 31, 1919 (earth)
January 30, 1930 to February 16, 1931 (metal)
February 15, 1942 to February 4, 1943 (water)
February 3, 1954 to January 23, 1955 (wood)
January 21, 1966 to February 8, 1967 (fire)
February 7, 1978 to January 27, 1979 (earth)
January 27, 1990 to February 14, 1991 (metal)
The Horse personality often varies radically. In Asia, it is believed that those born in the years of the Horse may be tyrants, revolutionaries, or thieves. On the other hand, they have great capacity to excel. Others are often in awe of them, worship them, but seldom really understand them. Horses are good at handling money, but often lose interest in their goals. Chinese believe that horses are born to race or travel, therefore Horse people leave home at a young age, and remain restless throughout their life. They are impatient, yet quick-witted with a huge ego. They have a hard time belonging anywhere for long.
Horse people do well in groups and is never short on conversation. Social contact is important to the Horse and they often form close relationships with others and will give up anything for a good romance. The Horse represents desires and wishes they are usually associated with males. The ancients deemed the Year of the Horse to have masculine attributes. The hour of the Horse falls at high noon and the month of the Horse includes the Summer Solstice, which are both strong "yang" forces.
Thank goodness for open spaces, because the Horse needs plenty of room to roam! Energetic, good with money and very fond of travel, Horses are the nomads of the Chinese Zodiac, roaming from one place or project to the next. All of this Sign's incessant activity and searching may be to satisfy a deep-rooted desire to fit in. Paradoxically, Horses feel a simultaneous yearning for independence and freedom.
Horses crave love and intimacy, which is a double-edged sword since it often leads them to feel trapped. Love connections tend to come easily to Horses, since they exude the kind of raw sex appeal that is a magnet to others. This Sign tends to come on very strong in the beginning of the relationship, having an almost innate sense of romance and seduction. Horses are seducers in general; check out any A-list party and you're bound to find the Horse in attendance. This Sign possesses a sharp wit and a scintillating presence; it really knows how to work a crowd. Surprisingly, Horses tend to feel a bit inferior to their peers, a misconception that causes them to drift from group to group out of an irrational fear of being exposed as a fraud
Horses tend not to look much at the big picture; instead they just follow their whims, which can result in a trail of prematurely ended relationships, jobs, projects and so on. This Sign really knows how to motivate others, though, and get a lot accomplished. Once they find some peace within themselves, they can curb their wandering tendencies and learn to appreciate what's in their own backyard.